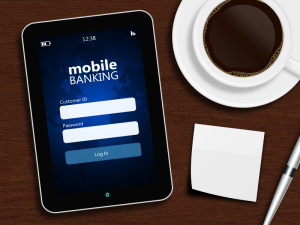 Admit it. From the first time you saw the commercial of the newlyweds, still clad in their wedding attire, depositing gift money by simply snapping the check's image; you were hooked! Mobile apps and banking got married. And so it will continue – from that day forward. Convenience Banking hadn't experienced that kind of revelation since the Automated Teller Machine (ATM) made its first appearance back in 1969.
In a press statement released this month from the American Bankers Association (ABA), they announced some very interesting statistics about Americans and our ubiquitous smartphones.
Independent market research firm, Ipsos Public Affairs, conducted the survey that polled 1,000 U.S. adults. Apparently thirty-nine percent (or two in five Americans) use a mobile device to manage their bank account at least once per month, and nearly half of mobile device owners banked with their device.
According to ABA's senior vice president and deputy chief counsel for consumer protection and payments Nessa Feddis, "It's no surprise that mobile banking has become more popular given banks' increased investment in this technology. Smartphones and tablets have become such an essential part of daily life for many Americans. Mobile banking is another way that institutions are making it more convenient for their customers to manage their accounts anytime and anywhere."
With our increasing mobility and reliance on getting everything done on the go, dependence on mobile apps that work – and function seamlessly across devices – is an everyday expectation. We also want the same user experience to carry from phone to tablet to laptop to desktop.
This Technological Renaissance is astounding when you step back and consider the not-so-very-long-ago flip phone days; but we don't even stop to think about those anymore. Things just need to work; and work App-tastically, especially when it comes to receiving and spending our funds.
We completely support the trend of app technology. The rapid! PayCard® accepts standard direct deposits and Deposit Funds from Approved Checks2 with Ingo Money1 mobile app.
You can receive your money on your rapid! PayCard from your:
Paycheck
Government benefits
Military pension
Financial aid
Or other payments tied to a direct-deposit capability
With payments loaded onto your rapid! PayCard you get access to your money, with greater security3 and convenience than check cashing.
While there are likely a good percentage of brick and mortar banks closing to avoid the overhead of sustaining these infrequently visited structures, our industry shows no signs of slowing. We are mobile and we mean it.
By the way, we meant no offense to those of you that are still using that analog Flip Phone! Just to prove it, the rapid! PayCard is a card that can give you access to ALL of your transaction and card usage information with TWO-WAY INTERACTIVE TEXT MESSAGING1 on your text capable Flip Phone. With a simple text message to our short code our cardholders can get their BALANCE, SAVINGS ACCOUNT BALANCE, TRANSACTION HISTORY, DIRECT DEPOSIT ENROLLMENT INFORMATION & CUSTOMER SERVICE NUMBER. That is powerful mobile access3 no matter the device that you are using!
1While rapid! PayCard does not charge for this feature and service, standard text messaging, data and cellular rates may apply. Please check with your cell phone carrier and inquire about fees your carrier may associate with these services.
2All checks subject to review for approval. Some bank issuers may take up to 48 hours to post funds to your card account.  Fees may apply.
3Funds are FDIC insured. MetaBank® or The Bancorp Bank® are FDIC-insured members. For additional information regarding FDIC insurance and what it means for you as a cardholder visit fdic.gov/consumers
The information contained in this article and any other article do not reflect the views of rapid! PayCard®.