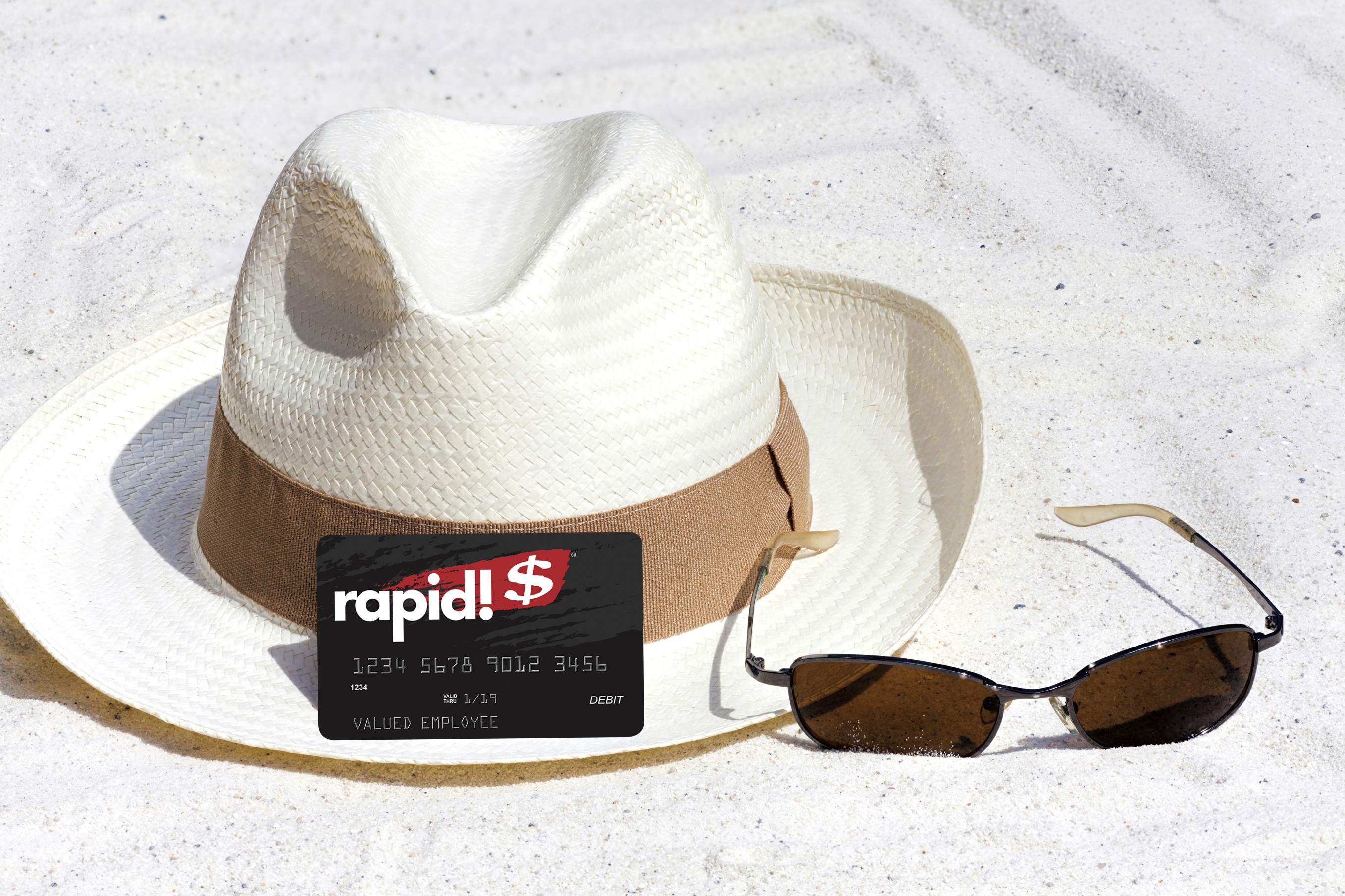 Hard-working employees deserve a break every once in a while, but vacations always seem to leave the people still in the office in a bit of a crunch. That is where rapid! PayCard comes in. With rapid! PayCard your payroll department has the ability to auto schedule payroll while they are away on vacation. This saves your company from facing the expenses of hiring and training temporary staff while your payroll personnel is out of the office.
Gone are the days of traditional payroll where checks were processed, printed and hand delivered by payroll. With the convenience of ePayroll and rapid! PayCard companies and payroll departments have many benefits including:
Improved efficiencies through reduced time spent processing, printing and delivering paychecks
Reduced costs in both payroll (due to improved payroll department efficiencies) reduction in printing costs and reduction in opportunities for payroll errors
ePayroll eliminates the exposure to lost or stolen checks and check fraud which improves off-cycle payment problems and business continuity
All of these benefits aid your company in paying employees on time and improving efficiency. With rapid! PayCard your mind can be at ease (even when your payroll staff is on the beach) that your employees are receiving their payment in a simple, smart and secure way. The best part is, your hard working employee who is finally taking some time on the beach, at an amusement park, hiking in the mountains or enjoying quality family time is getting paid too. With the convenience of the rapid! PayCard their paycheck is directly deposited on to the PayCard and can be spent wherever Debit MasterCard or Visa debit cards are accepted, from Florence, Italy to Venice, Florida.
As your employee receives the funds on their PayCard they also automatically received an electronic pay stub for their records, completely eliminating paper payroll. ePayroll requirements vary from state to state but your rapid! PayCard representative can help you verify your states' requirements or you can access our interactive map here which will provide you up-to-date information by state.
For more information about auto scheduling payroll with rapid! PayCard call 888-828-2270 or fill out our contact form and one of our helpful payroll specialists will contact you. We provide extensive enrollment materials, bilingual videos, and easy checklists to make the program launch simple. You will also have a dedicated Prepaid Enrollment Specialist to help you implement a successful program. Once implemented, the rapid! PayCard program is known for saving companies time and in turn money in their Payroll and Human Resources departments.
Businesses saved a total of $6.7 billion over the last ten years by switching employees to direct deposit according to a study by PayITGreen. This is an average annual saving for each employee of $176.55.
If you ever have questions or issues, you can contact, at no additional cost, our 24/7 Customer Service staff or your dedicated Payroll Enrollment Specialist, who will design your customized marketing and training materials for your successful PayCard and ePayroll enrollment. At rapid! PayCard, we make payroll simple, smart, and secure.
The information contained in this article and any other article do not reflect the views of rapid! PayCard®.