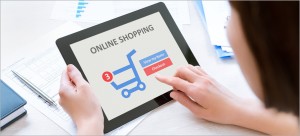 Whether for convenience or sheer affordability, shopping online is culturally entrenched.
Downloading music day or night, purchasing theatre or airline tickets, spending an hour on Amazon buying all the Christmas toys on the list; it is the most effective use of retail time.
You save on gas, on time spent looking for a parking space, and you avoid buying seven dollars' worth of frozen yogurt at the mall.
You can shop in your pajamas, in all kinds of weather, enjoy the benefits of free shipping, and even have gift items sent directly to their recipients — never having to step foot in the post office!
How else is online shopping valuable? It gives you the opportunity to make educated decisions by easily comparing prices across sites and reading feedback from other consumers before you purchase.
Perhaps best of all, you need not ever be stalked by, or interact with a single salesperson asking you if you are "being helped?" "finding everything you need OK?" and the dreaded, "what brings you in today?"!
Online, if you have a question, a very helpful "instant chat" with a representative puts you completely in control to find out what you need to know and then end that conversation at any time. The inference here is not about being unsociable, it is about convenience and efficiency.
And further in our praise of online shopping, you may actually save with the online purchase over the same item available in the store's brick and mortar. Even if you do some advance reconnaissance to inspect the items ahead of time in the store, it may still be worth your time to return home and order online. You don't even have to go home to shop actually. Add those purchases to your cart from your iPad in the parking lot. You may be inundated with emails after your first purchase, but just send them all to a folder in your email account for future "deal opportunity" review.
It is probably not even necessary to quote statistics on this type of shopping as it is so ingrained in collective consciousness, but according to The Statistics Portal, the "number of online shoppers has risen from 172.3 million in 2010 to 201.7 in 2015 with projections to 215.1 in 2018".
The famously free encyclopedia, Wikipedia, in its history of online shopping entry states very clearly that: "Online customers must have access to the Internet and a valid method of payment in order to complete a transaction."
And that's where happy, rapid! PayCards® come in! They can be used wherever Debit MasterCard or Visa debit cards are accepted. You can shop 'til your eyes glaze over looking at your monitor and receive every advantage of the flexibility of a card, without the temptation of spending beyond your means.
AND, with online shopping, you will not have to lug a shopping cart around the store. That little wire basket icon will just sit in the upper right hand corner of your screen waiting for you when you are ready to check out! Like a personally virtual concierge.
The information contained in this article and any other article do not reflect the views of rapid! PayCard®.